Tennessee Becomes "Hands Free"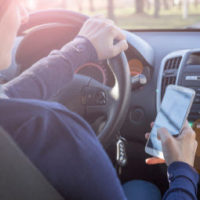 Beginning on July 1, 2019, Tennessee drivers will not be allowed to touch their phones for any reason while driving. Instead, drivers wishing to use technology to call, text, or even listen to music, will have to go hands free. The new law is not a ban on technology, though. Smart watches, Bluetooth-enabled radios, and earpieces will keep drivers connected, though authorities continue to caution that even these hands free options can create distracted driving conditions. Hands free laws now exist in 19 states, as well as the District of Columbia.
Accident Compensation Changes 
Not only does the new law create penalties for physical use of a cell phone while driving, it also changes what constitutes negligent driving. While you could previously argue that a driver's cell phone usage constituted distracted driving and contributed to or even caused the accident, the new law will strengthen your ability to collect compensation in such cases. The previous law prohibited texting, but not any other use of handheld devices, making it difficult to successfully claim distracted driving as a result.
Regardless of the cause, if you are less than 50 percent at fault for the accident, you can recover damages. Your personal injury suit can seek compensation for expenses resulting from the accident, including:
Medical expenses
Repair or replacement of damaged property
Lost wages
Pain and suffering
However, before you can collect compensation, you will need to prove negligence on the part of the at-fault driver. You will likely also have to refute claims that you were primarily at fault for the accident, since Tennessee law will not allow you to collect compensation if you are 50% or more at fault for the accident. The other driver's insurance will conduct research in an attempt to prove that you were at fault, so do not agree to provide them with a statement or medical records. Instead, politely decline to answer and refer them to your attorney.
Building Your Case 
After an accident, you will work with your attorney to establish that the other driver was at fault for the accident and your injuries. It can be difficult to prove some causes, such as distracted driving. In order to build the strongest case possible, you will need to document the accident. This documentation may include:
Date, time, location, and weather conditions of the accident
Photographs of the scene, damages, and injuries
Police reports of the accident
Witness accounts, along with their names and contact information
Your own detailed account of the accident
Relevant medical records
It may take some time to compile all of the necessary documentation, but your attorney will be able to help you speed up the process. You have only one year to file a personal injury claim after your accident, so time is of the essence.
Contact an Attorney 
If you've been injured in a car accident, contact an experienced Nashville personal injury attorney. Whether or not the other driver violated the new hands free law, the attorneys at Calhoun Law PLC, can assist you in collecting compensation for your injuries. Contact us today to schedule a consultation.
Resource:
newschannel9.com/news/local/drivers-and-police-prepare-for-hands-free-law-in-tennessee
https://www.calhounlawtn.com/personal-injury-claims-and-emotional-distress-damages/