Who Is Liable for Accidents Involving Large Animals?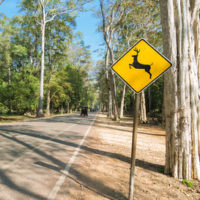 Your instinct when you spot a large animal in the road may be to swerve. However, the safer course of action is to slow down, giving the animal time to move out of your path and increasing the time you have to steer away from the animal. Other basic safety precautions can help to prevent animal collisions as well, including:
Driving the speed limit
Using headlights in dark and rainy conditions
Staying focused on the road and surrounding area
While you could encounter large animals anywhere on the road, you should be particularly vigilant in rural areas where animals are more likely to be present.
Animal Accident Liability
No matter how careful you are, you may still find yourself in a collision with a large animal. This can be more complicated than a fender bender, since the liable party isn't immediately obvious. If the animal was wild, such as a deer, you will not be able to recover damages, since there is no owner to hold liable.
If the large animal, such as a cow, does have an owner, then he or she may potentially be held liable for failing to secure the animals, resulting in the hazard. A farm hand or other party may also be held liable if it was his or her job to repair the fence and a failure to do so resulted in your accident.
In some cases, you may also be able to hold the municipality responsible if a failure to maintain adequate guardrails to prevent animals from entering the roadway. However, it is difficult to bring a case against the government due to sovereign immunity, but the law does make an allowance for suits due to unsafe road conditions if you are able to prove that the entity responsible for maintenance was previously aware of the dangerous conditions and failed to repair them.
Tennessee law allows you to collect compensation for injuries resulting from the accident from the liable party. However, if a wild animal is to blame, you may be able to get assistance from your car insurance company.
Determining Ownership and Liability
The bottom line is that, when you hit an animal, it can be difficult to determine ownership and, thus, liability. However, reporting the incident to the police and hiring an experienced attorney can help. These professionals will investigate the incident and the police, in particular, will work to determine the owner of any domestic animals in order to contain them and prevent future accidents.
Be certain to clearly document all circumstances surrounding the accident, including weather conditions, time of day, descriptions of animals involved, your speed, and attempts to maneuver around the animal. These details can help to show who may be held liable, as well as demonstrating that you did not cause the accident.
Contact an Attorney
The Nashville personal injury attorneys at Calhoun Law PLC can help you recover compensation for your injuries. This will begin with aiding you in determining who is liable for the animal's presence on the road and, thus, the injuries resulting from your accident. Contact us today to schedule a consultation.
Resource:
advance.lexis.com/documentpage/?pdmfid=1000516&crid=3af71a84-6c87-476b-868f-2fb86b3f57fa&nodeid=ABSAAVAAD&nodepath=%2FROOT%2FABS%2FABSAAV%2FABSAAVAAD&level=3&haschildren=&populated=false&title=44-21-103.+Bovine+owner+activities+that+preclude+limitations+on+liability.&config=025054JABlOTJjNmIyNi0wYjI0LTRjZGEtYWE5ZC0zNGFhOWNhMjFlNDgKAFBvZENhdGFsb2cDFQ14bX2GfyBTaI9WcPX5&pddocfullpath=%2Fshared%2Fdocument%2Fstatutes-legislation%2Furn%3AcontentItem%3A52SM-B9Y0-R03N-6276-00008-00&ecomp=gg18kkk&prid=7fd36143-37b3-410e-98e3-316027a66ae8
https://www.calhounlawtn.com/extreme-fun-or-accident-waiting-to-happen/